Description
This is an exclusive book from Quilting in the Valley's Lisa Furleigh!  Contains 12 patterns for quilts to satisfy your urge for a new quilt each month!  Patterns contain fabric and cutting requirements for two sizes each:  Large lap and Queen.  The book also includes over 30 recipes for fun stuff from Lisa and from QITV customers to keep your tummy full while you stitch!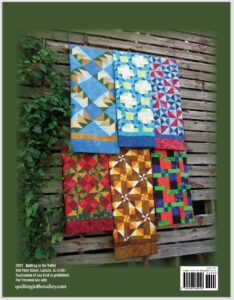 We make mistakes!  When we find them, we will mark them here!!
Corrections:
Celebrations Quilt:  Yardage on the Large Lap is incorrect for fabric A , B, C, and C.  Fabric A should be 2 1/4 yards, Fabric B should be 3/4 yard, Fabric C should be 1 1/4 yards, Fabric D should be 1 1/8 yard.